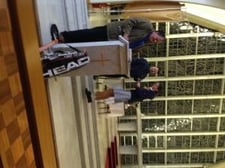 On Saturday 14 June, the Stuartholme Tennis Community gathered to celebrate a successful start to the year of tennis.
So far this year, Stuartholme has won the Sacré-Cœur Shield held in Toowoomba and the CaSSSA Aggregate Cup and CaSSSA Percentage Cup from the season which just concluded.
Overall, the Dinner was a successful evening with delicious food, great company and several awards presented to the girls throughout the night.
"The year isn't over yet though and we are excited to see the girls playing the game they love with such passion," Sports Coordinator Katherine McMain said.
"Thank you to everyone who has helped make the first half of this year a strong one. A special thanks to our coaches and parents for their support."
The girls will now start training for Teams Tennis and the Knowles Cup coming up in a few months time.
Categories: Stuartholme School