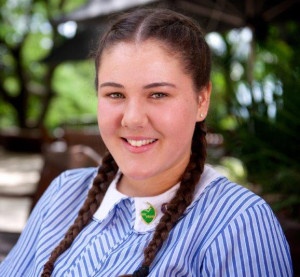 Read this inspiring speech by Jane, one of our student leaders which was delivered to the School on Assembly on International Women's Day.
International Women's Day
Let me hit you with some facts. Did you know that there are more CEOs in the world named David then there are female CEOs in total? In Australia, 1 in 5 women will experience sexual violence after the age of 15. 31 million girls worldwide of primary school age are not enrolled in school. 2/3s of the world's illiterate population are women. There are 196 countries in the world, but only 33 have ever had a female leader.
Globally, women account for 80% of the world's farmers, producing 50% world's food, but own 1% of the world's land. Women work 2/3s of the world's hours, but earn 10% of the world's income. 80% of all people trafficked across borders are women. Every minute a woman or child dies during childbirth. I woke up at 6:45 this morning, it's now about 8:30, that's at least 105 minutes, and at least 105 sisters lost. In Australia, the gender pay gap accounts for a full-time average earning difference of $284.20 per week. The average age of a child bride is 8 years old.
I could go on and on with numbers, but I think you get my point.
I am up here speaking today as a 16 year old girl in front of a pretty big bunch of other girls around my age in a school dedicated to the education of women and women alone. This is a privilege that unfortunately not many young women, or women in general have the opportunity to attain. And while that's not our fault, we have the means to be able to act upon that injustice and it is our duty to do so.
As Stuartholme women we are lucky enough to have the opportunity to prosper in an environment where we are not discriminated against because of our gender. You're not going to see your friend in grade 7 leave school to be forced into marriage and have children, you're not going to see your best friend walk on average 7 kilometres to collect water for her family, you're not going to see one of the grade 8s selling herself on the streets to pay for dinner. We need to understand just how lucky we are to live in this society, but we also need to be the voice for our silenced sisters who are discriminated against worldwide.
International Women's Day is next Tuesday and it comes around once a year, but we should treat every day as women's day. Those who know me well will vouch for my extreme passion surrounding gender equality and would have heard my many feminist opinions that I am proud to express.
Feminist. That's a huge word with so many connotations. But may I take this opportunity to remind you that the literal definition of feminism is "the belief that women are and should be treated as intellectual and social equals to men" and "the belief that men and women should have equal rights and opportunities". It's pretty simple when you put it like that.
Empowering women to become equals is one of the most effective tools for improving the lives of families, communities and nations worldwide. You educate one woman, and you educate a community. This is the girl effect. It requires us to tap into the potential of adolescent females, and allow them to prosper. Madeleine Sophie is the perfect example of this. She was one woman, and if it weren't for her you would not be sitting here today. We would not have a network of 140 Sacred Heart School sisters worldwide. She recognised the importance of education and if there is only one thing you do in your life to give back, it should be to help another woman have the opportunity we do.
It's something we take for granted but we must realise that we have the power to lift one another up. We cannot continue cutting each other down as many women do. It's almost as though the years we were silenced have brought out a competitive nature amongst us, where we wish a sister all the success in the world, but we're secretly hoping she'll fail. We must abolish that attitude, and raise each other's voices because out in the real world, we are silenced far too often.
So how do we, a pretty big bunch of girls, change the world's view on women? How do we empower other women? How do we reform the statistics?
Well, I'm 16, I don't have that many years under my belt, I honestly have no clue. But I do know how we can start to make a small difference. Don't take for granted the opportunities we have as women in this environment, reach out to other women who have been victimised and objectified, lift them up, support them, be the voice of our silenced sisters in daily conversation. Don't hesitate to call out your friends, family, boyfriend or girlfriend on any misogynistic comments they may make. I know I never tolerate it. Please don't hesitate to educate yourselves and others about gender discrimination and feminism. Show people the statistics, force them to open their eyes and be aware. But before you do these things, realise your own potential and please do not let any preconceived ideas about our gender hold you back. Remember that your value does not decrease based on someone's inability to see your worth.
I'd just like to steal the words of feminist and poet, Rupi Kaur, for a second. "I want to apologise to all the women I have called pretty before I've called them intelligent or brave. I am sorry I made it sound as though something as simple as what you're born with is the most you have to be proud of, when your spirit has crushed mountains. From now on I will say things like, you are resilient or, you are extraordinary. Not because I don't think you're pretty. But because you are so much more than that."
Categories: Stuartholme School