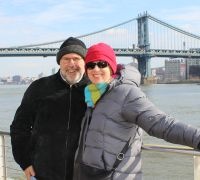 The Physics and Science teacher, along with 20 other musicians from community choir 'Brisbane Chorale,' recently took part in the annual Distinguished Concerts International New York Music Festival.
Mr Nielson has been praised by Principal at Stuartholme School, Mrs Helen Sinclair, for being an inspiration to the girls and demonstrating that excellence is achievable in multiple areas.
"We all have many varying talents and should try our best to follow them all," Mr Nielson said.
"That's the message I want to show the girls."
When asked what his advice would be to aspiring musicians at Stuartholme, he said to be as involved as possible.
"Join a community choir, take music lessons and learn an instrument," he said.
"Do simple things that will develop your skills and inspire your musical passions."
Mrs Sinclair encourages students to pursue their talents.
"We have a long tradition of excellence at Stuartholme especially in our music and drama departments and it is a delightful experience to hear teaching staff and students excelling in their areas of passion."
Mr Nielson said the once-in-a-lifetime trip was a definite highlight of his time as a musician.
"It's a beautiful thing to be able to travel internationally and perform to a live audience," he said.
"The experience was simply amazing and I would encourage anyone thinking of taking their musical ambitions abroad, to do so."
The annual 4 day long festival saw musicians from all around the world come together at Carnegie Hall to rehearse and perform.
"While our priority was rehearsing, we also got the opportunity to do a lot of sightseeing," he said.
"We went to Times Square, several museums and also saw Russell Crowe filming a live scene in Central Park which was amazing."
Prior to being involved in Brisbane Chorale, Mr Nielson spent a number of years in a Jazz choir called SCAT and worked in the jazz band
Marmalade Swing and folk groups The Verandah Band, Jack the Lad and Pandanus.