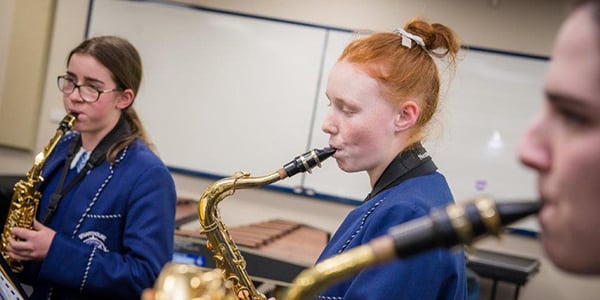 You don't have to look too far to see the benefits of learning music. Studies show music can enhance brain function, improve speech development, improve spatial intelligence, and improve your memory. Another key reason though is quite simply, music brings us joy!
Music is the emotive art that provides us with a unique human centre. It makes us laugh and cry but ultimately music communicates that we're not alone.
Music can provide so many health and wellbeing benefits and is a positive way to communicate thoughts, feelings, and emotions in a time when we are disconnected from friends and family. This is particularly important as we continue to navigate how students learn when online learning or restrictions are in place.
By setting up a regular routine for students to rehearse, they can improve their music skills and feel a sense of connection.
The following are three tips families can use to help your young musician:
Encourage your daughter to create her own practice space. Ideally, this is a comfortable space in the home that is free from distractions i.e. no mobile phones or additional screens. Animals (wherever possible) are highly encouraged to participate in the practice area and make the best non-judgemental audience members!

Keep the instrument out and ready to play. It's important your daughter can access her instrument between study sessions, zoom lessons, or other family distractions. It's amazing how many times she will sit at the piano, sing or pick up her instrument when it's readily available.

Short, regular practice sessions provide incredible long-term benefits for musical development. Five minutes of a fun, focussed practice can give her the motivation to tackle the next assignment or school activity.
Finally, allow your daughter's musical development to be a positive connection between you and her. Whenever possible, encourage her by using the phrase "I love hearing you play ……."
All our students are producing something that is beautiful and as teachers (and parents) we must make sure there's joy and laughter – it's not all serious!
The Stuartholme Music Program offers a range of ensembles for every student from Rock Band, RnB, Choirs, or Orchestras. Find out more at www.stuartholme.com
Andrew Mear
Director of Music